Travel Abroad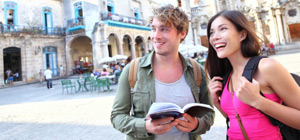 Experience the diverse cultures of the world! Set the wheels in motion for your next journey abroad and open yourself up to the many opportunities for cross-cultural learning that await you. By traveling, you will become highly adaptable, culturally-sensitive and globally-aware. Don't miss the opportunity to enrich your life while building a valuable cross-cultural skill set that you can take with you into your future career, no matter what your field of focus may be.

What You Should Know First

Find Travel Resources Now
Virtual Internships in 2023!

Remote work is the way of the future! Plan YOUR virtual international internship now.

Take these rapid quizzes to assess your international skills, experiences & job search readiness!